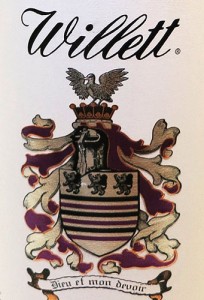 The Willett Distilling Company was established by the Willett family in 1935, shortly after the end of prohibition. The primary label produced was Old Bardstown.
In the 1970s the distillery switched to producing ethanol for fuel, and in the early 1980s stopped distilling entirely.
Even Kulsveen had married Martha Willett, and in 1984 purchased the company and renamed it to Kentucky Bourbon Distillers (KBD). Acting as rectifiers (or NDPs – Non-Distilling Producers), KBD bought bourbon stocks from other distilleries and released them as their brands: Johnny Drum, Old Bardstown, Kentucky Vintage, Noah's Mill, Rowan's Creek, and the Willett brands, among others. They also bottled whiskeys for other brands such as Michter's and Black Maple Hill.
Willett has become famous in the enthusiast world for the Willett Family Estate line, which produces precisely what many bourbon fanatics want: excellent quality whiskeys, unfiltered, and bottled at barrel proof. Since they have used several suppliers, it's usually a mystery as to what's in the bottle, but there's a high likelihood it will be excellent.
In early 2012, KBD started distilling again, with Even's son Drew as master distiller, producing 4 bourbon and 2 rye mashbills, including one wheated bourbon. As of summer 2014, their in-house 2-year rye has been released.
Some of the new mashbills are reportedly:
-Rye: 74% rye, 11% corn, 15% malted barley
-Rye: 51% rye, 34% corn, 15% malted barley
-Bourbon: 72% corn, 13% rye, 15% malted barley
-Wheated bourbon: 65% corn, 20% wheat, 15% malted barley
Early Willet Family Estate bottles were cognac-shaped with sloped shoulders; there was a period where clients could specify that they wanted the taller bottle, and eventually all barrels were bottled in the taller-style bottle. When bottles were wax-dipped, the wax color was chosen by the store/individual who picked the barrel, or randomly by the staff. There's no "code" as to what different colors mean, and in a few instances individual barrels have produced some bottles dipped in one color, and others dipped in another.
Timeline
-1970s- Willett stopped distilling whiskey.
-2006- Willett Family Estate brand was launched, featuring barrel proof, single barrel expressions distilled elsewhere and purchased in bulk. Early bottlings included the Doug Phillips green and black ink, Iron Fist and Velvet Glove, Bitter Truth, LeNells Red Hook, and Rathskeller Ryes, as well as the Speakeasy Select bourbon.
-2010-2011- At some point in this time period the word "Willett" on the label started to be printed in a cursive typeface, where previously it had used a serif print font.
-2012- The company started distilling again in January, using 4 bourbon and 2 rye mashbills.
-2013- Proof, barrel number, etc. started to be machine-printed rather than hand-written late in the year. In December bottles began to be capped with foil instead of wax-dipped, save for a couple of exceptions that were waxed later.
-2014- Natural cork stoppers were discontinued in favor of synthetic corks. The first Willett-distilled whiskey in over thirty years was debuted, a 2-year rye.
 Tracking Spreadsheet
Recently, enthusiast John Sinclair started a Google doc listing every Willett Family Estate single barrel bottle known. It's compiled from user submissions, and he has graciously given permission to reprint it here for your reference. If you have bottles to add to the list, you can email the details to: